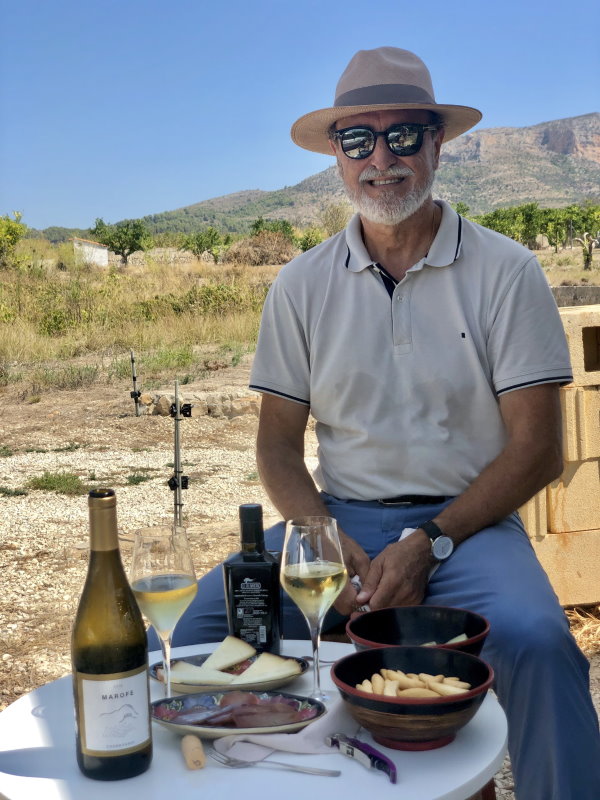 Pedreguer - Marina Alta
Finca Mont Roig is a vineyard located in Pedreguer in the province of Alicante, consisting of a 1.5 hectare plot of land developed in 2013 by its current owners. If it is a family project, it is José Antonio who leads the boat. As a young retiree, he dedicates his second life to sustainable viticulture using ecological and biodynamic principles.
---
In order to integrate the vineyard into the landscape, the dry-stone margins in different parts of the land have been restored. The configuration of the soil, clayey, deep, with a high degree of limestone, the climate of the region and the orientation of the estate determined the choice of the variety to be planted. Chardonnay was chosen to produce dry, fresh and unique wines. As the limestone content of the soil and the degree of humidity are variable, two different variants of the variety are present, 140RU types and Fercals types. The planting frame has been configured as a trellis, in rows of 2.60 metres and a distance between the vines in each row of 1.25 metres with localised irrigation. From these vines a first wine was marketed in 2020, the Marofe, and in 2021 a cuvée with two months in barrel was put on sale, Rosers.

Marofe 2021
White wine Chardonnay 100%
Alcohol content: 12,5% Vol.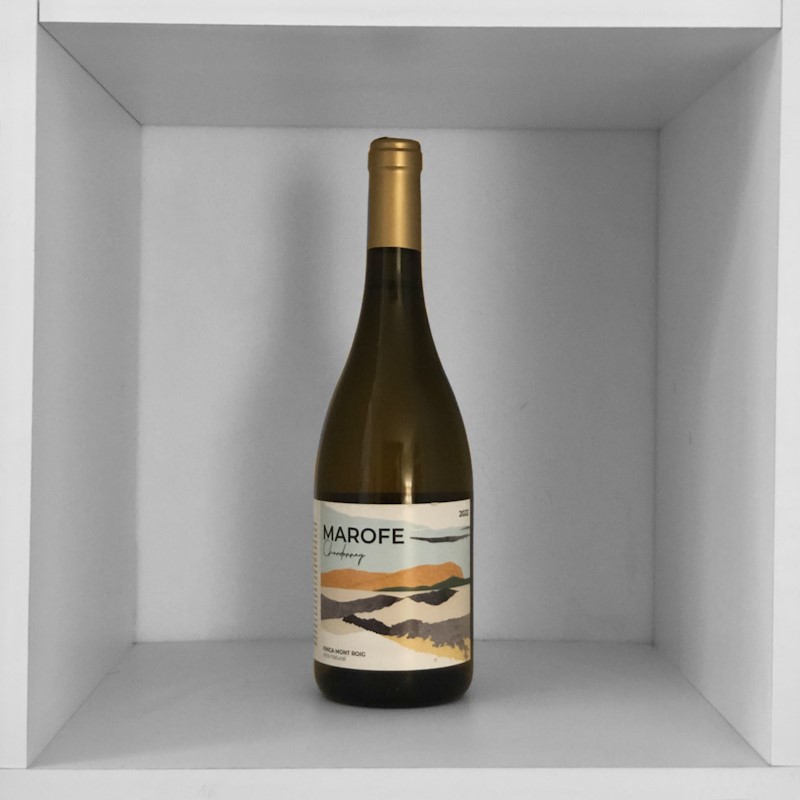 Around 1932, the family built a fabric factory in Pedreguer, which continued to operate until the mid-1980s. The brand of handkerchiefs was called Marofe, hence the name given to the wine, a desire to recover part of the family's heritage and history.
---
The harvest: the harvest has been done by hand and stored in refrigerated lorries until it reached the cellar. The maturing of the wine is carried out in the Cup de la Muntanya winery in Planes.
---
The winemaking: once the harvest is finished and deposited in the cellar, the grapes are destemmed and crushed. The must is pressed in a pneumatic press, the extracted juice is put into stainless steel vats at a temperature of around 15º so that the solid parts and coarse lees are deposited at the bottom of the vat. The temperature is then raised to start the fermentation process. No mechanical operations are carried out, no inputs or sulphite are added in the maturing of the wine.
---
The sommelier's notes: Marofe is an elegant, luminous straw yellow wine with greenish reflections. Aromas of green apples and tropical fruit, fresh pineapple and aromas of citrus fruit, mango, figs and a little spice. Long on the palate with a light acidity and a certain saltiness. It expresses the character of the Marina Alta terroir.
---
Recommended consumption temperature: not too cold to preserve all the sabors, between 9 and 11°C.
---
Consume from now.