Let's start!
MOATR3S en direct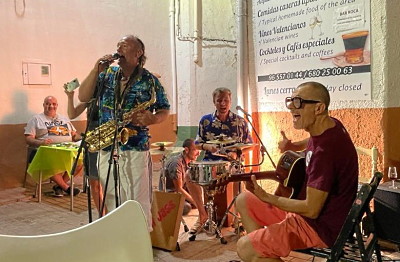 Els Folls from Vi Natural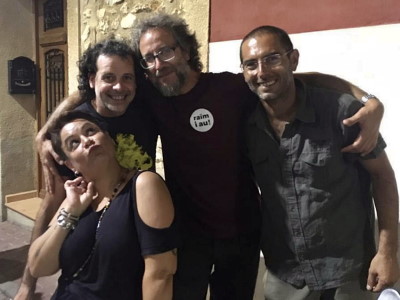 The reputation of natural wine in the Valencian Community is being built up like a dry stone wall, poquet a poquet (little by little). Being able to organise a moment of exchange around a public tasting and a live concert while respecting a strict sanitary protocol is an important step in the development of our project.
---
On Saturday 14 August 2021, the first official tasting organised by Vi Natural took place at the Roca bar in Benirrama (Vall de Gallinera, Alicante). No less than ten natural wines without any additives were served by Lumi and Jérôme accompanied by three winemakers, Carlos Espi from Bodega La Encina, Cristobal Vanyó from Cos a Cos and Juan Tarrega from Vinyologia Canor. The public was thus able to discover each vineyard and the characteristics of their wines without having to move from his place.
---
A wine festival is not a party without music, so after the tasting the local group MOATR3S (Jean jass trio) performed their songs in Valencian while the guests enjoyed the food prepared by the Roca bar. A festive atmosphere that ended late and that invites us to organise other similar events, why not travelling around the Valencian Coomunity!
Ancestral, whites and reds, here is the complete list of wines presented at this tasting:
---
Rojo y explosivo 2020
Bodega La Encina, La Encina
Ancestral Monastrell rosé
---
TOR 2020
Vinyologia Canor, Benissa
White wine Giró blanc, Plantafina, Messeguera, Trapadell, Moscatell and Malvasia
---
TrapaDell 2017
Celler Alter de Benimaquia, Teulada
White wine Trapadell 100%
---
Llunavins Orange 2020
Bodega La Encina, La Encina
Orange wine Forcallat blanc 100%
---
Mass de Suagre 2019
Cos a Cos, Ontinyent
White wine 80% Messeguera, 20% Malvasia
---
Xalera 2019
Les Foes, les Coves de Vinromà
White wine Macabeu 100%
---
4callat 2020
Cos a Cos, Ontinyent
Red wine Forcallat 100%
---
Endemic Segundo 2019
Ferrer Gallego, Jaraguas
Red wine Bobal 70%, Cencibel 20%, Tardana 10%
---
Vinya dels Morts 2018
Vinyologia Canor, Benissa
Red wine Giró 100%
---
nu 2018
La Zafra vinos, Monover
Red wine Mourdèvre 100%