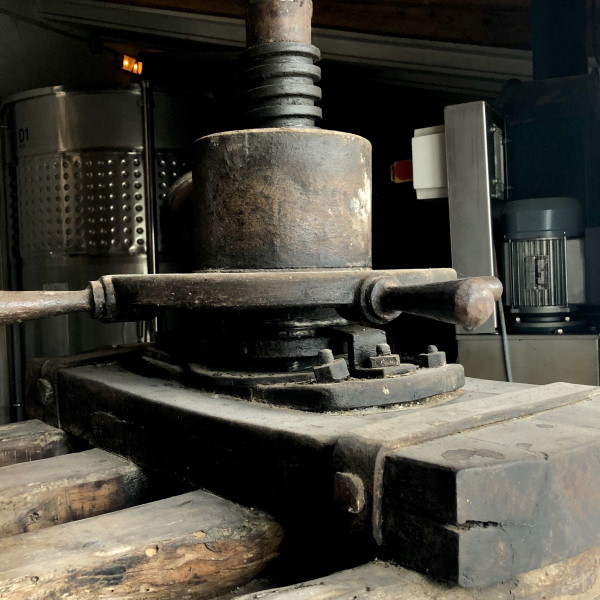 • To the wine cellar
A natural wine starts within the vineyard , using agro ecological methods that respect biodiversity and revitalise the land. The grapes are picked by hand, crushed to break the skin and pressed directly (white and pink wine) or macerated for a few days (red and orange wine). There are indigenous yeasts, produced by the plants and flowers on the terrace encouraging insect life to the vines, which ferment the grape juice.
---
The winemaker chooses the barrel container, which influences the final taste of the wine (stainless steel tank, wooden barrel, amphorae or cement tank), the fermentation time and the bottling time. Nothing more. All industrial and mechanical techniques, additives or chemical additives including reverse osmosis, lightning pasteurisation, micro-oxygenation, filtration or thermo-vinification are strictly forbidden.
Sulphites are formed when an amount of sulphur dioxide (SO2) comes into contact with the wine. It is the main antioxidant used by the food industry. All wines contain sulphites, naturally or added. An "industrial" wine contains between 150 and 200mg/l of SO2, an organic wine between 90 and 150mg/l, a wine with the Demeter certification between 70 and 90mg/l and a natural wine less than 40mg/l. There are also wines with organic or Demeter certification that are natural, because they have less than 40mg/l of SO2.
---
Now a new vine-growers generation is making wine with no added sulphite (S.A.I.N.S.), a very radical yet respected position. Associations in Spain, France, Italy and other countries, organise fairs and exhibitions as people gradually become interested in these wines. This is the philosophy that vinatural.org has decided to promote.