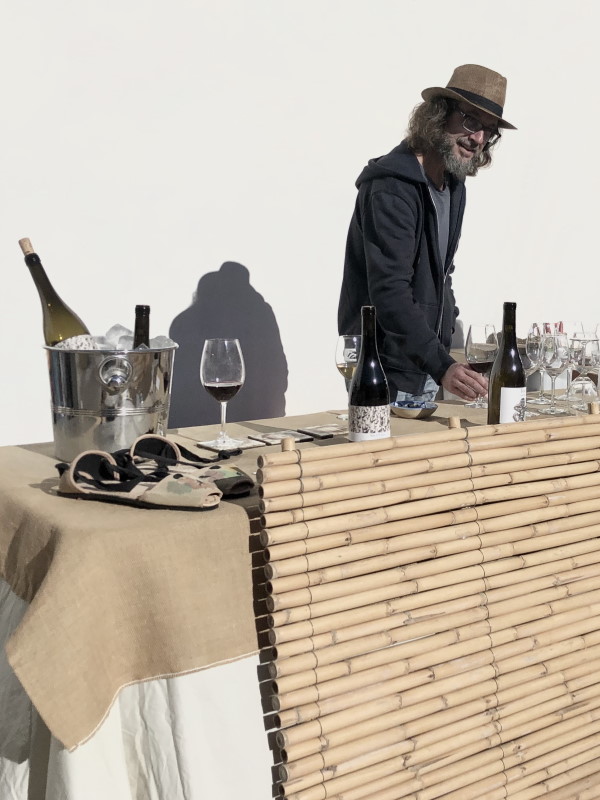 Benissa - Marina Alta
Juan Tàrrega is one of the nicest, intelligent and unpretentious growers, and he knows that. An art teacher at Secondary School in Valencia, he made his first barrel, already natural, in his house in Benissa in 2012. Initiator of the Bancal de Vi vineyard association, he is the mentor of the project vinatural.org. The white wine Tor is named after Juan's son Victor, who likes to accompany his father to the winery.
---
In December 2019 we chose together a red wine barrel to start the project, a Giró from Vinya dels Morts, possibly the best in the Marina. We are so proud of our Grenache grape that we have given it its own name, the Giró, and the Gironet when it's small.

#5 Vinya dels Morts 2019
Red wine Giró (Grenache) 100%
Alcohol content: 14,7% Vol.
The terrace is located in Canor road, in the municipality of Senitja, in the region of Marina Alta, near the sea. The vines of Giró (local name for grenache) were planted more than 40 years ago. The vines are planted on a red earth which is like the mountain's blood in a deep, gobelet pruning, moist soil of well-defined clay and lime, which acts as a vibrant life enhancing force.
---
The harvest: in September the grapes are harvested in the morning, selecting the grapes on the terrace. They are transferred to the cellar where fermentation with wild yeast commences.
---
The winemaking: the fermentation and maceration process is slow, taking more than a month. Victor carries out the daily 'pigeage' with his bare hands, which is an essential feature of this process. The wine then remains in French oak barrels for a year.
---
The sommelier's notes: this dense, complex wine is elegant and balanced reflecting the classic and respectful process.
---
Recommended consumption temperature: between 14 and 18°C
---
Consume from now.